SAINT FRANCES
1hr 46min, NR Comedy/Drama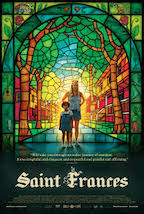 A Vickers Virtual Screening - On Line
Flailing thirty-four-year-old Bridget (Kelly O'Sullivan) finally catches a break when she meets a nice guy and lands a much-needed job nannying six-year-old Frances (played by a scene-stealing Ramona Edith-Williams). But an unwanted pregnancy introduces an unexpected complication. To make matters worse, she clashes with the obstinate Frances and struggles to navigate a growing tension between Frances's moms. Amidst her tempestuous personal relationships, a reluctant friendship with Frances emerges, and Bridget contends with the inevitable joys and shit-shows of becoming a part of someone else's family.
Winner of 8 Awards including; Traverse City Film Festival, Audience awards at SXSW Film Festival, and the Chicago Critics Film Festival
Common Sense Media: Edgy Comedy/Drama, Adult Themes, Age 15 years+
VIRTUAL SUPPORT OF THE VICKERS  
By purchasing an "Virtual" Screening Ticket or streaming rental through the Vickers website, you'll be SUPPORTING THE VICKERS and its staff, while the theater is closed.
Approximately 50% of your ticket purchase goes back to The Vickers.
We wish to thank Oscilloscope Labs and the many film distributors, who make this revenue generating opportunity possible.