CORPUS CHRISTI
1hr 55min, NR - Drama
Language: Polish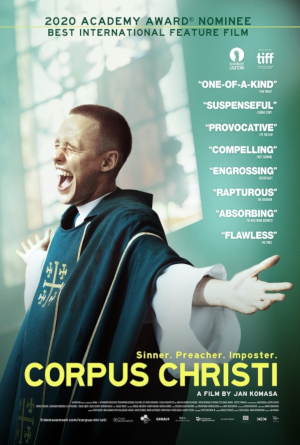 A Vickers Virtual Screening - On Line
CORPUS CHRISTI (BOZE CIALO) is the story of a 20-year-old Daniel who experiences a spiritual transformation while living in a Youth Detention Center. He wants to become a priest but this is impossible because of his criminal record. When he is sent to work at a carpenter's workshop in a small town, on arrival he dresses up as a priest and accidentally takes over the local parish. The arrival of the young, charismatic preacher is an opportunity for the local community to begin the healing process after a tragedy that happened there.  In the Polish language with English subtitles.
Oscar Nominee: Best international Film;
Winner of 11 Eagles (Polish Film Awards)
Best Actor winner at the Chicago International Film Festival
Winner of 47 various international awards
VIRTUAL SUPPORT OF THE VICKERS  
By purchasing an "Virtual" Screening Ticket or streaming rental through the Vickers website, from the link to the film's distributor, you'll be SUPPORTING THE VICKERS and its staff, while the theater remains closed.
Approximately 50% of your ticket purchase goes back to The Vickers.
We wish to thank Film Movement and the many film distributors, who make this revenue generating opportunity possible.