SPECIAL SHOWING OF BELFAST
2021, 1 hr 37 min, PG-13 Drama
Language: English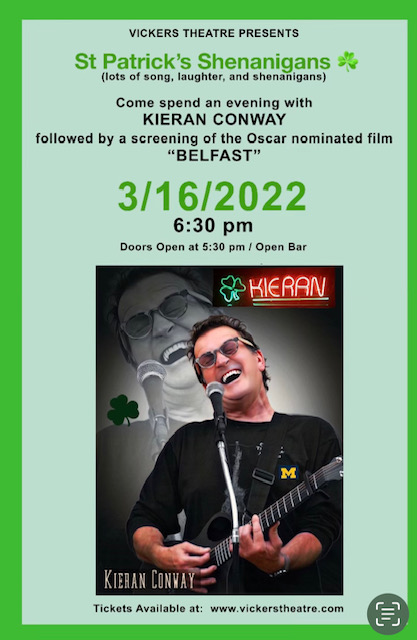 Director: Kenneth Branagh
SOLD OUT!
SPECIAL EVENT – ONE NIGHT ONLY MARCH 16TH
RECEPTION:  5:30PM
ST. PATRICK'S SHENANIGANS WITH KIERAN CONWAY:  6:30PM
BELFAST SHOWING:     7:30PM
$15.00 – TICKETS AVAILABLE ON-LINE OR AT THE BOX OFFICE
NOMINATED FOR SEVEN ACADEMY AWARDS
Belfast is the equivalent of a stormy, rainy day, creating a perfect calm-before-the-storm kind of feeling. Written and directed by Kenneth Branagh, this family story is a tasteful, bittersweet masterpiece.
Set in a small neighborhood in Northern Ireland during the late 1960s, Buddy (Jude Hill), a young boy from a small-town family, experiences life in tumultuous times. As religious tensions between the tight-knit community members grow, his family dodges shady neighbors and argues the question of moving out of Belfast while Buddy tries to ace his time tables. Belonging to the struggling working class, Buddy's father (Jamie Dornan) often travels for weeks at a time leaving him and his older brother (Lewis McAskie) to explore Belfast on their own. However, their father and mother (Caitriona Balfe) are always there to protect them when danger comes their way.