THREE OAKS AGAINST THE WORLD
60 min, NR History
Presented by: Harbor Arts and the Region of Three Oaks Museum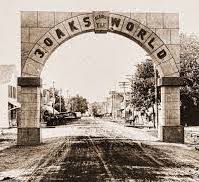 Three Oaks Against the World was presented live at The Acorn Theater in the summer of 2017 as Three Oaks celebrated its Sesquicentennial. If you missed the event you won't want to miss the opportunity to see it presented on the big screen at the Vickers Theatre. If you did see the original play this is your chance to re-live the magic the event.
Following the showing of the film, there will be a presentation on "The Making of Three Oaks Against the World" by director John Hancock and Playwright Allen Turner.
The event is FREE, but reservations are strongly encouraged to ensure your place at this event.
Reservations (Strongly Recommended)
Saturday, June 15 12:00 noon  – Free Admission – 
More Information and Reservations at HarborArts.com