SOMEONE SOMEWHERE
1 hr 50min, NR - Drama
Language: French with English subtitles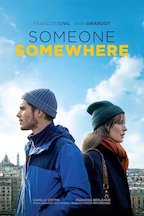 A Vickers Virtual Screening - On Line
Remy and Melanie are 30yo and live only a few steps from each other in the same Parisian neighborhood.  Whilst Melanie loses faith in Tinder one-night stands, Remy can hardly get a date.  So close, yet totally unaware of each other feeling lonely in the middle of a big city.  They both head down two parallel paths that barely ever cross.  Can they turn a series of missed opportunities into a life-changing first encounter.
Directed and co-written by Cedrid Klapisch
"Entertaining, slow-burn Parisian romance" – The Guardian
100% Rotten Tomatoes
North American premiere at the COLCOA French Film Festival in Los Angeles.