ONCE WERE BROTHERS: ROBBIE ROBERTSON AND THE BAND
1hr 40min, NR - Music/ Biography/ Documentary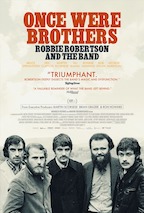 A Vickers Virtual Screening - On Line
Distributor: Magnolia Pictures
Once Were Brothers: Robbie Robertson and The Band is a confessional, cautionary, and occasionally humorous tale of Robbie Robertson's young life and the creation of one of the most enduring groups in the history of popular music, The Band. The film is a moving story of Robertson's personal journey, overcoming adversity and finding camaraderie alongside the four other men who would become hi brothers in music and who together made their mark on music history. Once Were Brothers blends rare archival footage, photography iconic songs and interviews with many of Robertson's friends and collaborators including Bruce Springsteen, Eric Clapton, Van Morrison Martin Scorsese, Peter Gabriel, Taj Mahal, Dominique Robertson, Ronnie Hawkins, and more.
Rated R  (for some language and drug references)
VIRTUAL SUPPORT OF THE VICKERS  
By purchasing an "Virtual" Screening Ticket or streaming rental through the Vickers website, you'll be SUPPORTING THE VICKERS and its staff, while the theater is closed.
Approximately 50% of your ticket purchase is payed back to The Vickers.
We wish to thank Magnolia Pictures and the many film distributors, who make this revenue generating opportunity possible.