LIGHTS!, CAMERA!, THREE OAKS!: THE MAKING OF PRANCER
2019, 13 min, NR Documentary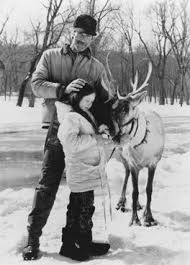 Director: Nick Bogert
Q&A with the documentary's filmmaker Nick Bogert follows the film.
Saturday, July 20th, 12:00 noon  No Reservations, Doors open at 11:15 am
Thirty years ago, Three Oaks and surrounding towns shone in Hollywood's spotlight, during the filming of the movie "Prancer". A new video by museum board member Nick Bogert looks back on the experience, featuring the recollections of the movie's director, child star, and local folks who appeared as extras. Find out why the film crew wanted to eat reindeer and how the film's star made a little extra money on set.  A Q&A with the documentary's filmmaker will follow the screening.
The Mini-Special Event is a benefit for the Region of Three Oaks Museum.
Free Admission, but donations will be gratefully accepted.
No Reservations, Doors open at 11:15 am, 12:00 noon show