LICORICE PIZZA
2021, 2 hr 13 min, R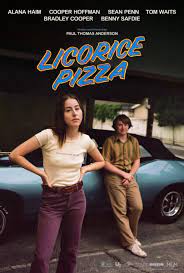 Director: Paul Thomas Anderson
Licorice Pizza is a 2021 American coming-of-age comedy-drama film written and directed by Paul Thomas Anderson. It stars Alana Haim and Cooper Hoffman in their film debuts, alongside an ensemble cast including Sean Penn, Tom Waits, Bradley Cooper, and Benny Safdie.
San Fernando Valley, 1973. Disarmed by his fearless confidence and surprising maturity, bored 25-year-old photographer's assistant Alana Kane reluctantly accepts to go out for a drink with sunny 15-year-old child actor Gary Valentine, her unexpected admirer. As one thing leads to another, the platonic soulmates embark on ambitious business ventures, trying to find their feet and purpose in a crazy world. But against the backdrop of life's ups and downs, can Gary and Alana remain friends?
Nominated for 3 Academy Awards including Best Picture and Best Director.