March 2021: Kathy Parker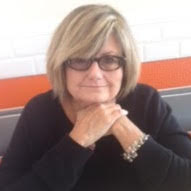 We are pleased to welcome Kathy Parker as our March patron of the month. Kathy resides in Michigan City Indiana, as do so many of our Vickers patrons. She, like others who cross the "Indiana border" to visit Michigan and the Vickers Theatre in Three Oaks, is so a part of the Vickers community.
Currently, Kathy is an academic aide for a special-needs-elementary student at Queen of All Saints School in Michigan City. Her teaching experience includes special education in the Michigan City Area Schools, and classroom teacher in the Chicago Public Schools. After receiving her Master's Degree in Library Science, she worked as the school librarian at Libby Elementary in Chicago. A native of the South Side of Chicago, she spent many summers in Michigan City and Harbor Country, moving here permanently five years ago. Kathy has always enjoyed independent movies and for years frequented the Beverly Arts Center in Chicago, which showed movies similar to those shown at the Vickers. She was thrilled when her neighbors introduced her to the Vickers.
Kathy's 11-year-old grandson sometimes accompanies her to movies at the Vickers. Gabriel especially likes unusual movies such Hunt for the Wilderpeople and The Peanut Butter Falcon, plus the Vicker's candy selection — WOW — a new generation of Vicker's patrons!  Kathy loves off-the-beaten-track movies and believes she is very selective of the kinds of movies she enjoys.  Kathy's love of movies comes from her father, who took his children "religiously" to movies. Before every major holiday, it was Night Out with Dad!
Kathy's favorite movie is Gloria. Gloria is a 2013 Chilean-Spanish drama film directed by Sebastián Lelio. The film premiered in competition at the 63rd Berlin International Film Festival, where Paulina García won the Silver Bear for Best Actress.  Kathy found the character of Gloria exhilarating.  She loved Gloria's bravery — the way in which she wasn't afraid to live her life to the fullest.. The Vickers showed the movie in 2014.  It was also a favorite of many of our patrons.
Lucky for us that Kathy frequents the Vickers on a regular basis.  We all now can get to know her and her family better.